Historically, school improvement efforts have primarily focused on technical factors such as grades and test scores while neglecting the social components of a school's culture, such as trust and commitment. The 5Essentials changes that reality.
The 5Essentials® System
The 5Essentials® is a research-based school improvement system that defines, measures, and utilizes the most important organizational conditions, including aspects of a school's culture and climate, to improve student outcomes.  
Specifically, the 5Essentials is an improvement framework and diagnostic survey with research-tested scoring and interactive reporting that provides insights into schools' organizational strengths and areas of opportunity across the five essential factors for school improvement: Effective Leaders, Collaborative Teachers, Involved Families, Supportive Environment, and Ambitious Instruction. The system also includes professional learning designed to help educators leverage 5Essentials data to inform improvement planning and drive improved school and student outcomes. 

Research has also shown that 5Essentials Survey indicators reliably predict school success on a variety of outcomes for both high school and elementary schools, including:
In 2020, the University of Chicago Consortium on School Research released a report that reaffirms the effectiveness of the 5Essentials in promoting positive student outcomes. The "Supporting School Improvement: Early Findings from a Reexamination of the 5Essentials Survey" report provides an updated and expanded validation of the 5Essentials Survey, including high schools and additional student outcomes. See key findings from the report here. 
 
5Essentials Reporting Site
The 5Essentials Survey is administered to students and teachers, with an optional parent survey, once a year. After in-depth survey scoring, schools receive individualized web-based reports that offer a comprehensive view of their school environment. 
The 5Essentials Reporting Site Allows Educators to:
See a snapshot of how organized their school is for improvement. Upon accessing their report, schools see a high-level view of their 5Essentials results, including an overall performance score of Well-Organized, Organized, Moderately Organized, Partially Organized, or Not Yet Organized for Improvement.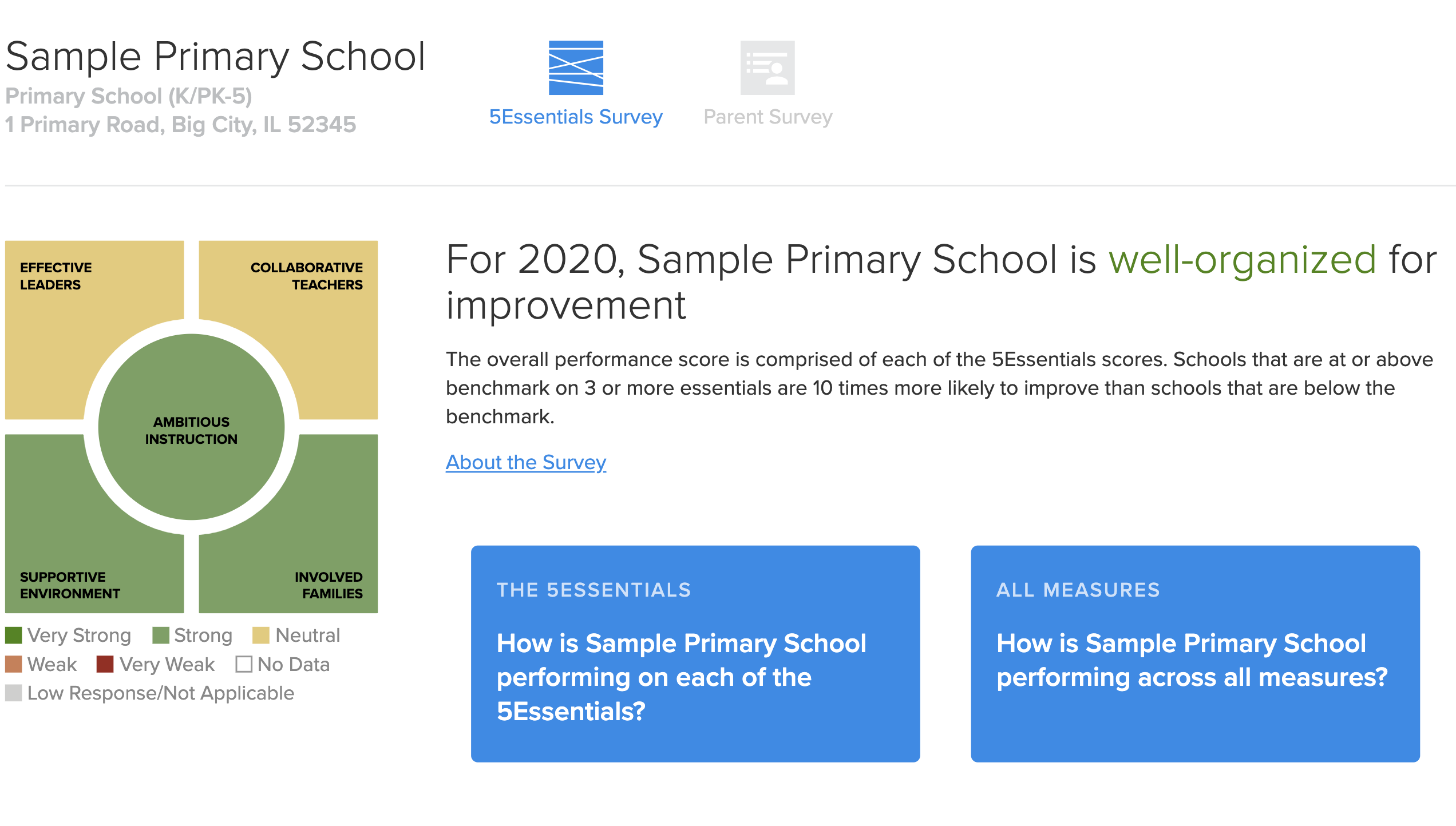 ---
Compare performance across the 5Essentials that matter most for school improvement. Educators can see how their school's performance varies across each Essential and drill down to identify the Measures that can be strengthened to improve their overall performance.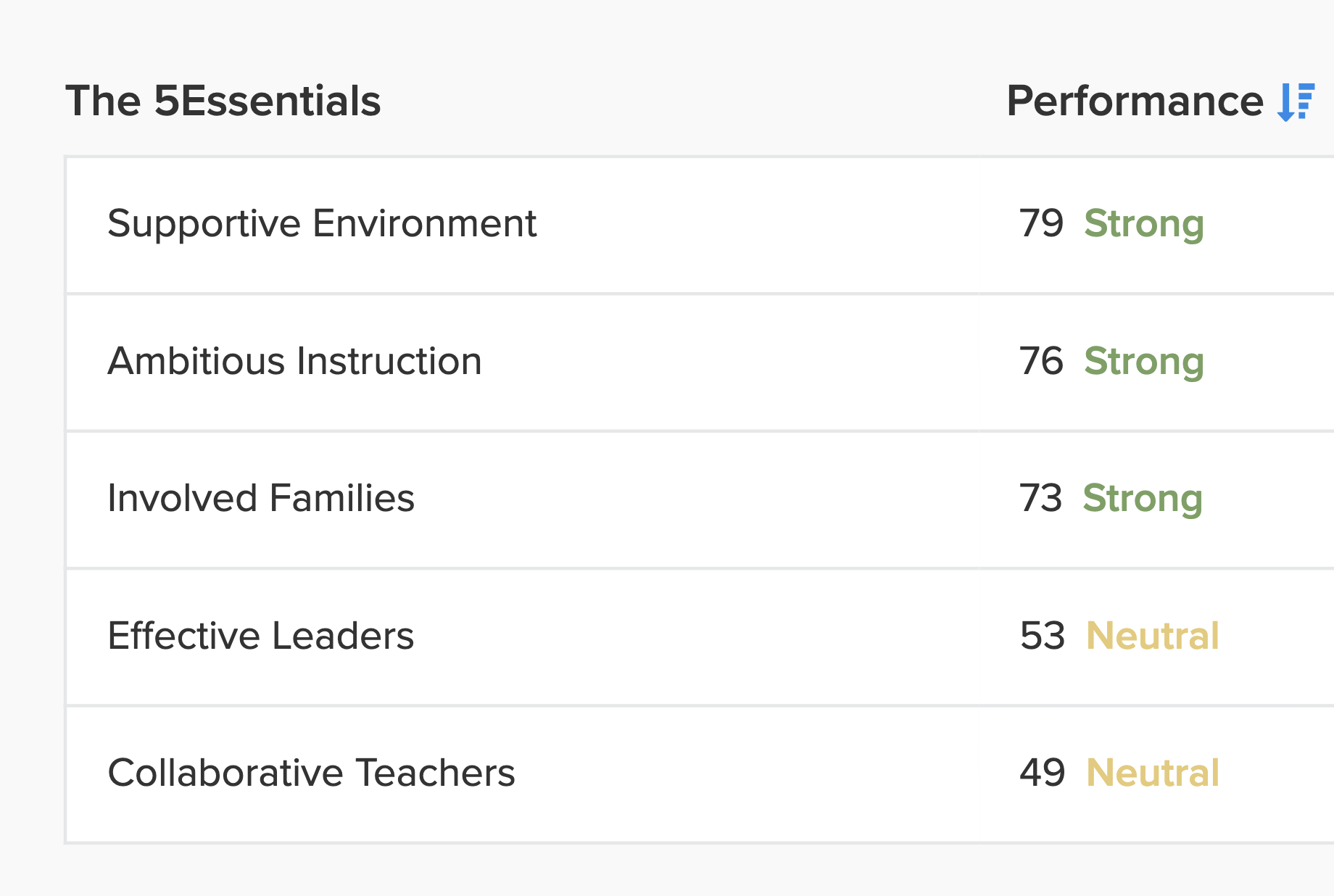 ---
Examine performance across the multiple Survey Measures that make up the 5Essentials. Educators can take an even more pointed approach to understanding their school's organizational strengths and opportunities by exploring the research-based Measures that comprise each Essential, as well as optional Supplemental Measures.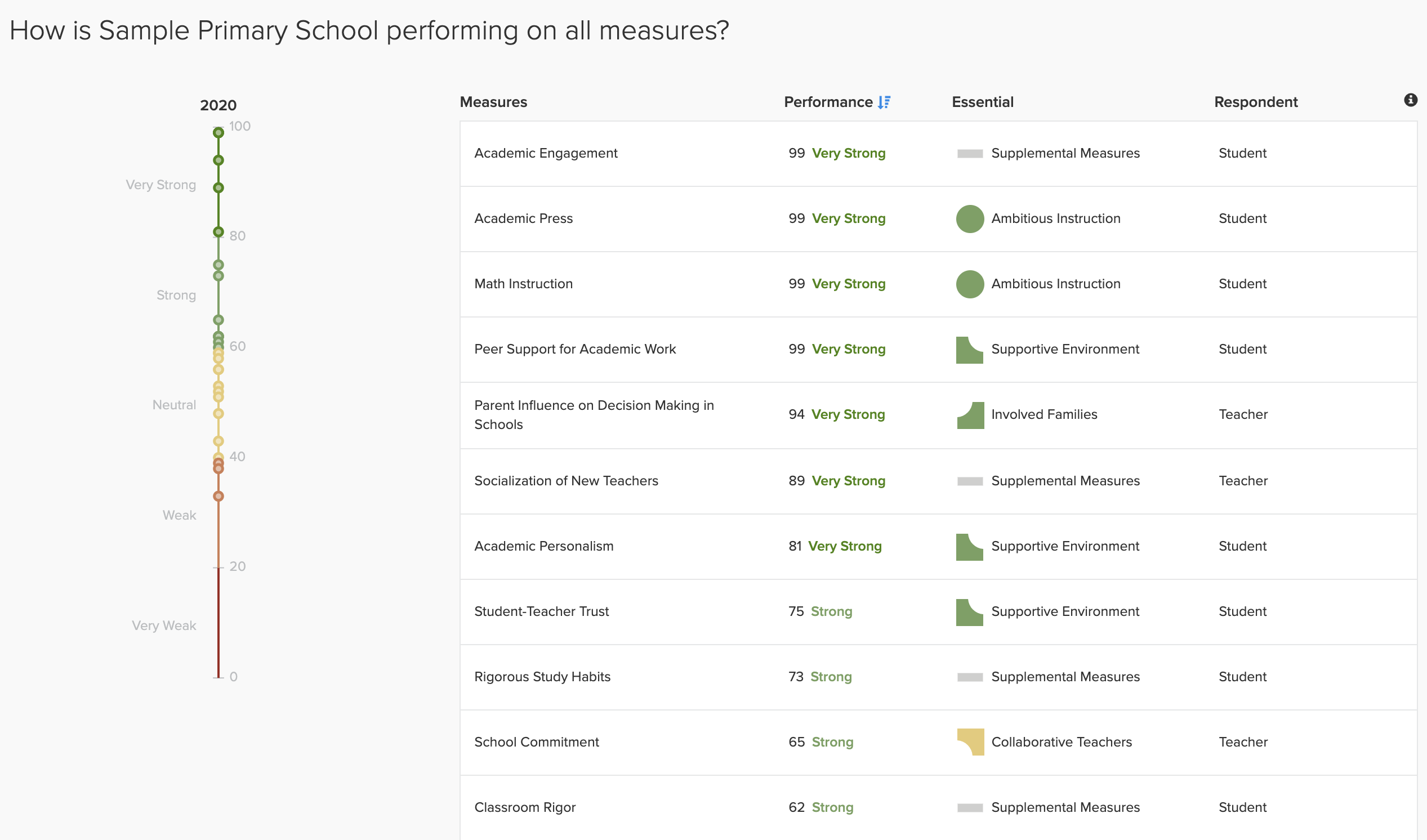 ---
Dig deeper into a Measure. Educators can view the items within each Measure to see the questions respondents were asked on the survey. This provides users with a deeper understanding of the concept represented by the Measure and the role it plays in a school's organizational health.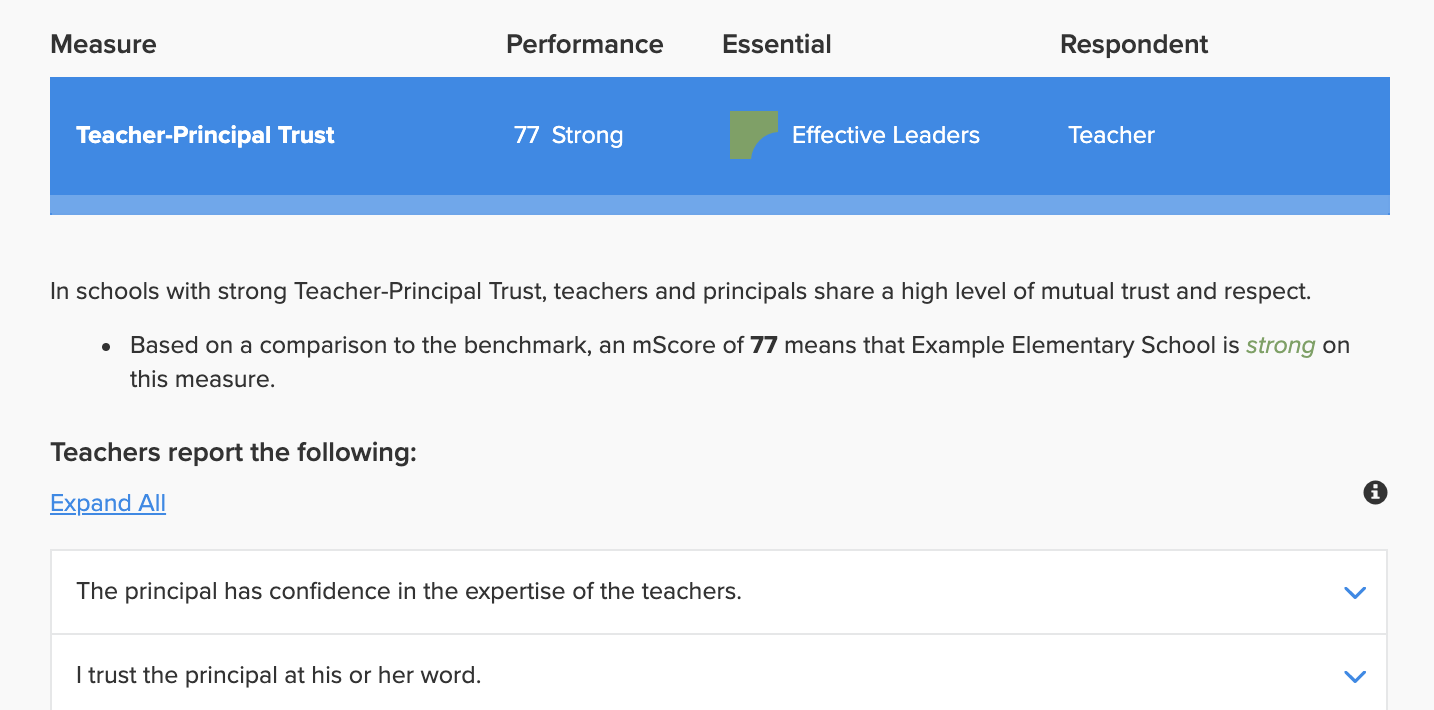 ---
Identify patterns across student subgroups and compare school performance to the district. Educators can disaggregate student-based Measures by grade level, gender, race, free and reduced-price lunch status, IEP status, and English language learning status. Educators can also compare their school's performance on the 5Essentials, and specific Measures of each Essential, to their overall district's performance.
 
---
Track changes in the organizational conditions that are necessary for school improvement. 5Essentials Survey reports show multi-year trends that allow schools to dig into their data, formulate strategic actions, and track their improvement over time. 
---
5Essentials Professional Learning
Districts and schools using the 5Essentials Survey can receive professional learning designed to help leaders leverage 5Essentials insights to create improvement plans that strengthen the organizational conditions linked to long-term school and student success. Standard introductory sessions provide participants with a deeper understanding of the 5Essentials and the survey administration process, the survey scoring process, and features of the 5Essentials reporting site. Subsequent professional learning opportunities focus on building foundational knowledge about the 5Essentials' key themes and how to utilize 5Essentials results in a cycle of improvement:
5Essentials Foundations is a series of professional learning sessions that unpack the 5Essentials Framework and central themes. This includes:

Understanding the 5Essentials
Building Trust
Fostering Supportive Environments 
Leadership and the Creation of Successful Environments

5Essentials School Improvement Series is a series of professional learning sessions spread across two years and designed to help educators analyze their 5Essentials data within a cycle of improvement and apply the data to coherent school improvement plans. This includes:

Data and Root Cause Analysis
School Improvement and Implementation Planning
Evaluate and Adjust
Continuing the Improvement Process
Since no two districts or schools are exactly alike, 5Essentials Professional Learning can be customized to meet the needs of the district and school community. Additionally, sessions are offered in both in-person and virtual formats.

---
5Essentials in Practice
What Research Tells Us About the Link Between School Organizational Conditions and Improved School and Student Outcomes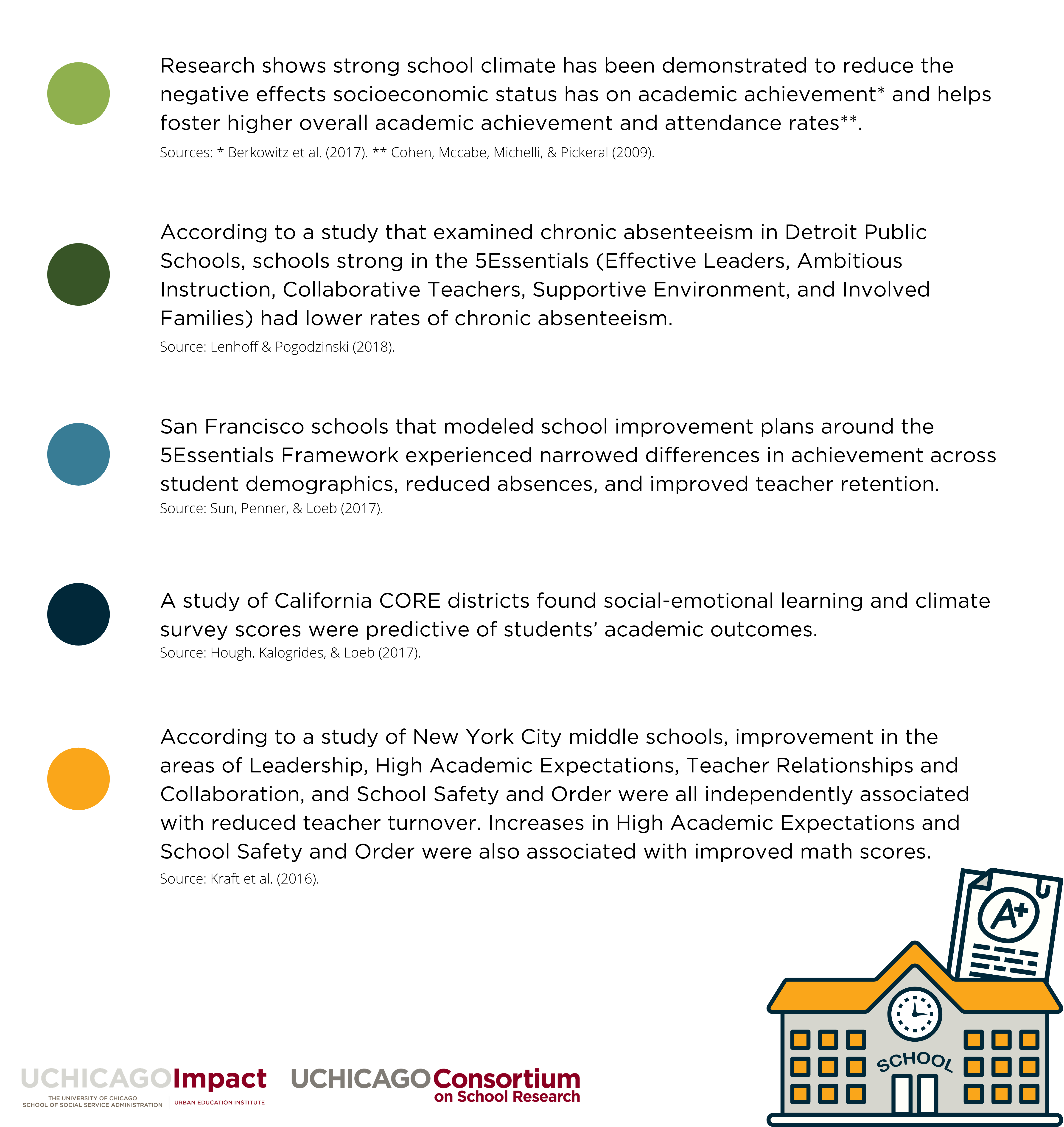 ---
5Essentials' Reach
The 5Essentials Survey has been administered in over 6,000 schools across the country, with over 10 million students, teachers, and parents completing the survey and contributing to school improvement processes. The 5Essentials System is implemented statewide in Illinois and is cited in the state's Every Student Succeeds Act (ESSA) school accountability plan. 
5Essentials School Leadership Coaching in Chicago
In Chicago, the 5Essentials System has gone even deeper. Through philanthropic support, UChicago Impact's team of 5Essentials School Leadership Coaches have provided a cohort of Chicago public schools with leadership coaching designed to support school leaders in building the critical skills, knowledge, and capacity to be effective stewards of school improvement. Learn more about 5Essentials School Leadership Coaching.
School Stories
Fairfield Elementary Works to Foster Strong Student-Teacher Relationships
Strengthening Trust Among Adults at Pasteur Elementary
McPherson Works to Improve Student-Teacher Relationships
The 5Essentials® is a registered trademark owned by The University of Chicago.